School Lunch Vendor
---
Claye Cantwell, founder of TOP NOTCH LUNCHES, is no stranger to giving San Diegans food they love. Born and raised in San Diego, he ran an area restaurant and bar right out of college. Soon thereafter, he was asked to start a food program for a small school attended by a friend's daughter. This created the passion Claye has instilled throughout the whole company to focus on child nutrition with a fresh, creative spin on a school meal program. Lynley Connor, COO and Co-Owner, has brought her Culinary Nutrition background from Johnson & Wales University to ensure Top Notch is always exploring new menu items. Lynley has been passionate about working with local farmers based in San Diego, and educating the schools on why organic produce looks different from the grocery store produce.  
TopNotch has grown in the past 11 years from providing to 1 school now up to 90 schools and nonprofits all serviced out of our 4,000sq. foot facility in Chula Vista and new location in Mission Gorge premiering fall 2021. Our team of almost 50 prep cooks, chefs, managers, and drivers give 100% daily to provide the highest quality service and food program possible to children all over San Diego. 
Our chefs arrive at the kitchen at four o'clock in the morning so that they can create from scratch and healthy food for kids. Because it's made earlier in the day from scratch — using fresh ingredients, not reheated or defrosted — our food is always tasty, delivered at its peak freshness.
We've developed a great rapport with all of our local suppliers that range from
-Local bakeries
-Local tortilla manufacturers
-Organic small farmers. 
Our philosophy is to remain local while supporting as many local small businesses as possible to create an ethical economy within San Diego County.TopNotch believes in functioning with a nonprofit mindset. TopNotch donates meals daily to refugees in Tijuana. Our hope is to create a social impact that starts with our main passion: feeding children.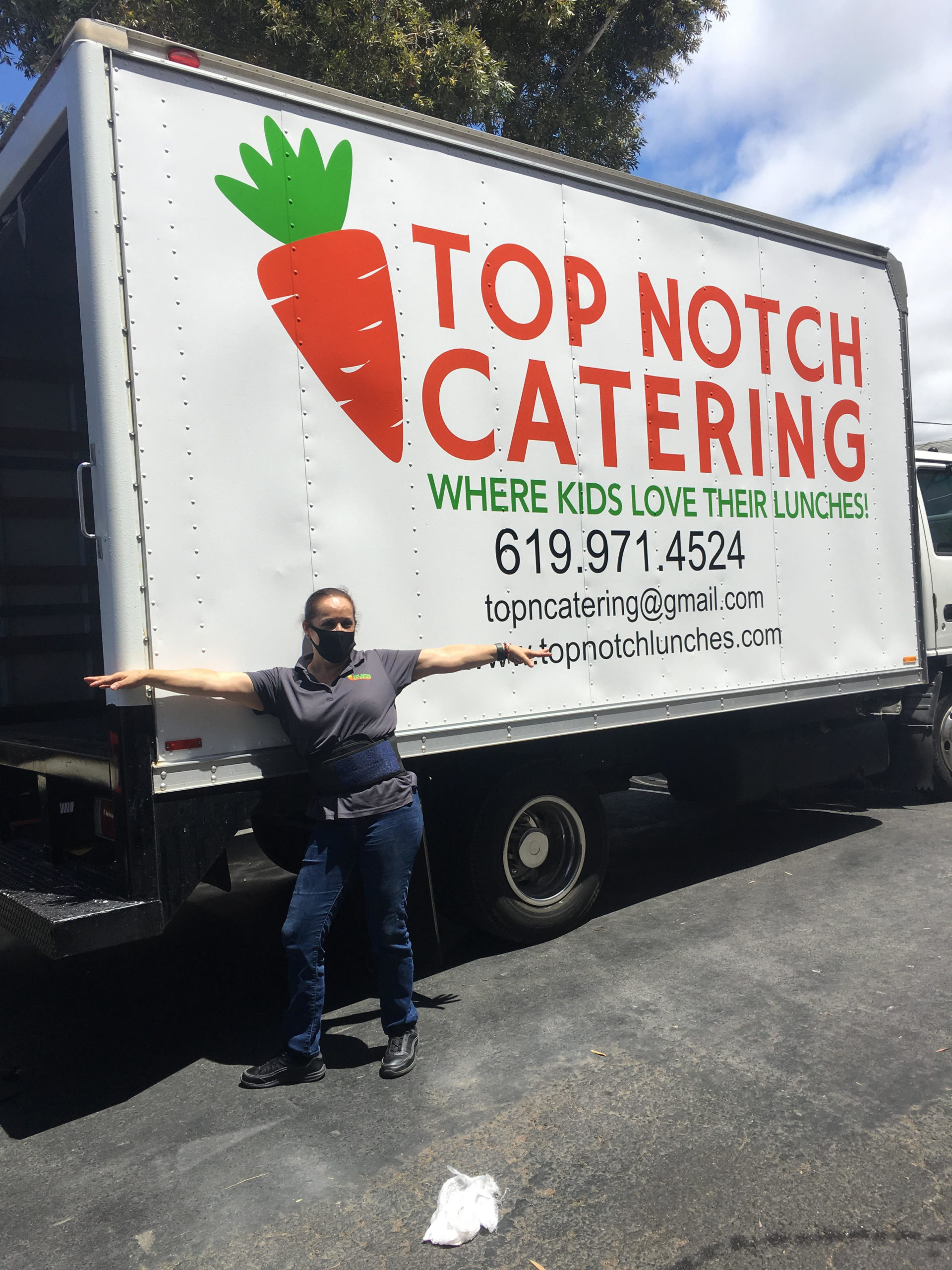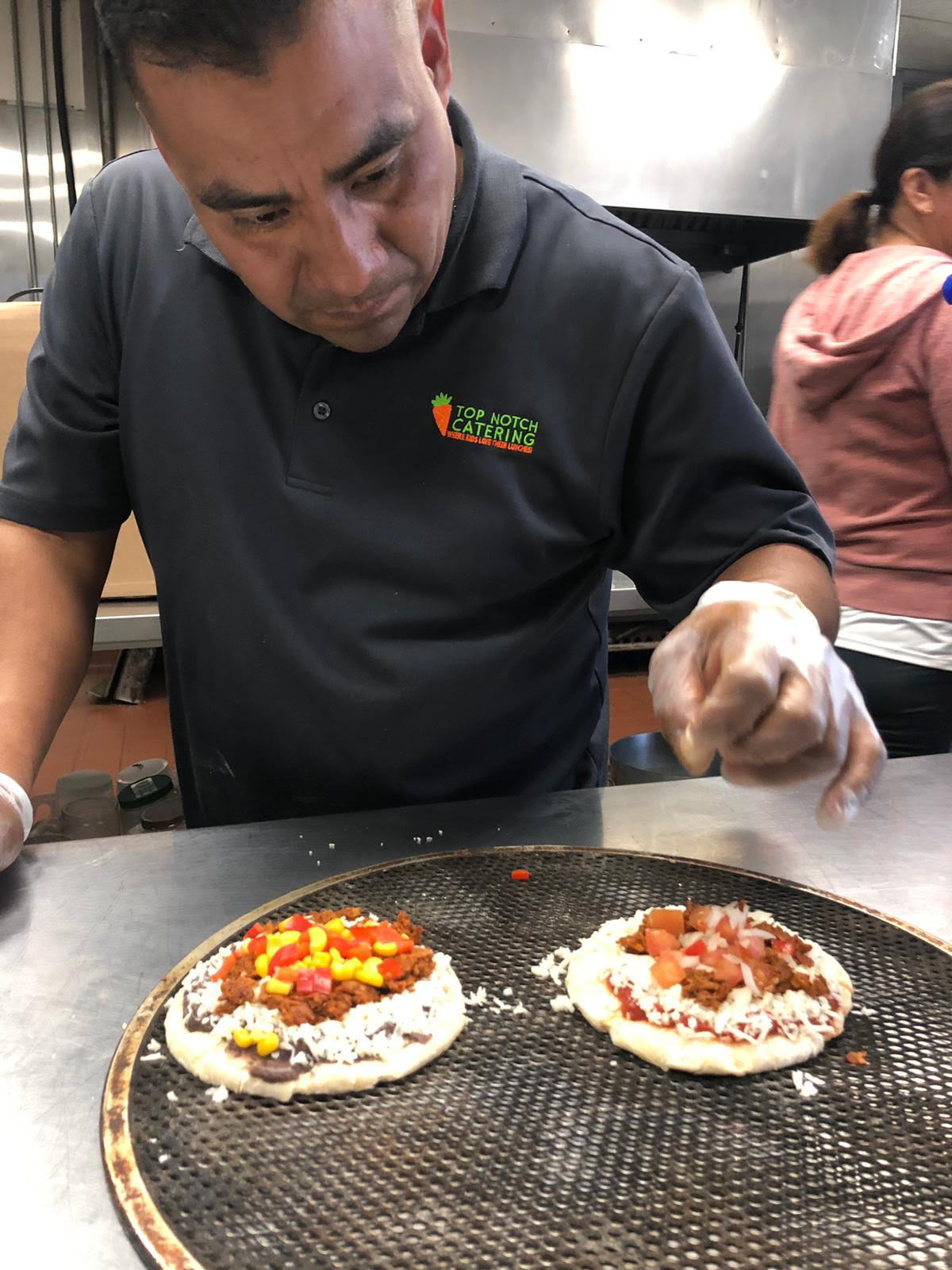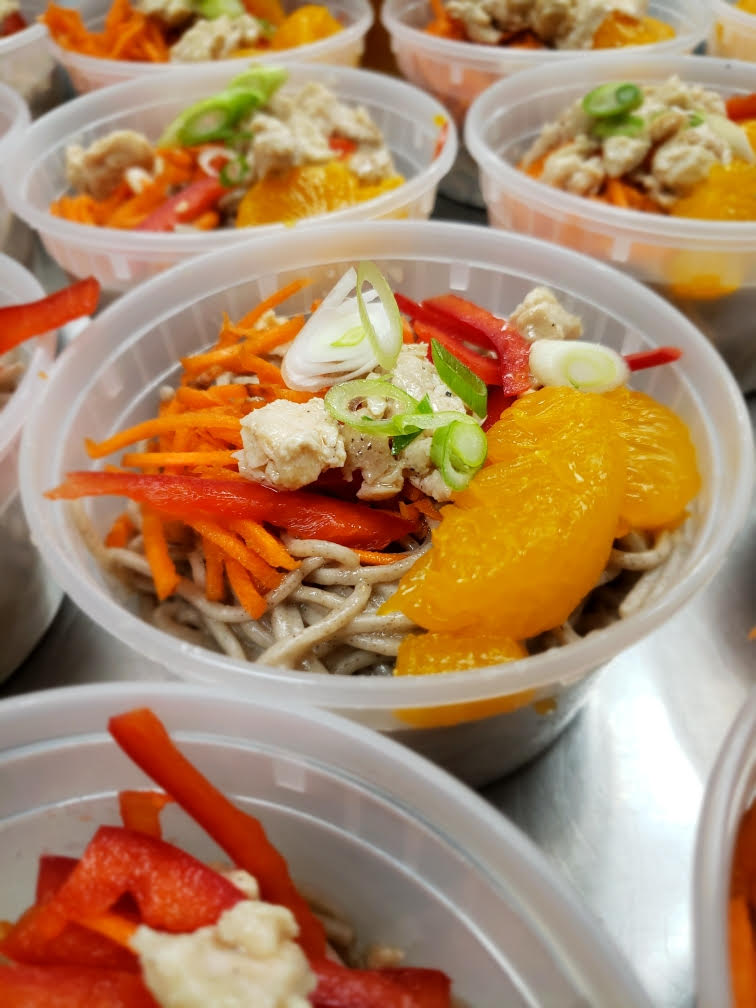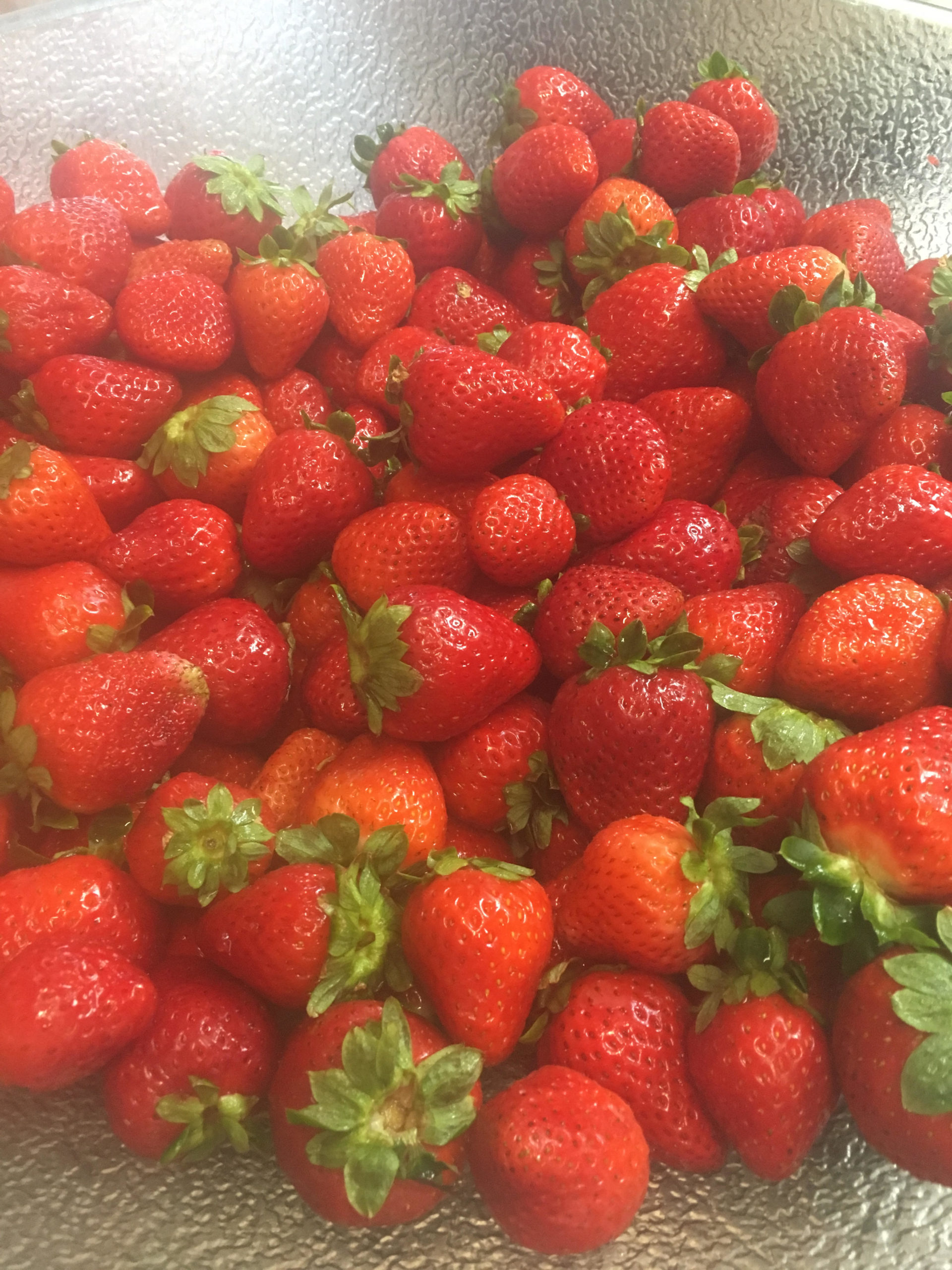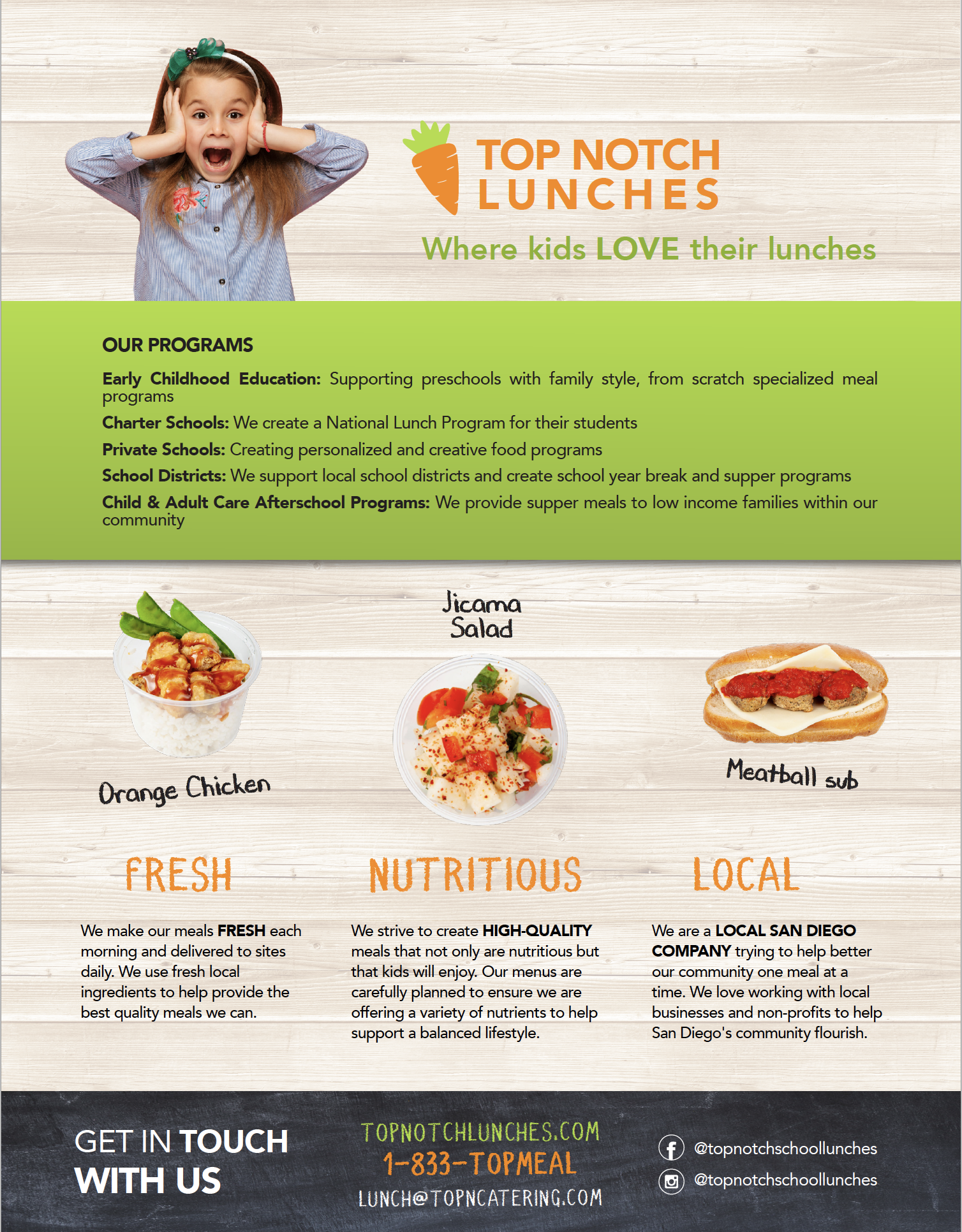 Proveedor de almuerzos escolares
---
Claye Cantwell, fundadora de TOP NOTCH LUNCHES, no es ajena a dar la comida de San Diego que aman. Nacido y criado en San Diego, dirigió un restaurante y bar en la zona nada más salir de la universidad. Poco después, se le pidió que comenzara un programa de alimentación para una pequeña escuela a la que asistía la hija de un amigo. Esto creó la pasión que Claye ha inculcado en toda la empresa para centrarse en la nutrición infantil con un giro fresco y creativo en un programa de comidas escolares. Lynley Connor, directora de operaciones y copropietaria, ha aportado su experiencia en nutrición culinaria de la Universidad Johnson & Wales para garantizar que Top Notch siempre esté explorando nuevos elementos del menú. A Lynley le ha apasionado trabajar con agricultores locales con sede en San Diego y educar a las escuelas sobre por qué los productos orgánicos se ven diferentes de los productos de la tienda de comestibles.
TopNotch ha crecido en los últimos 11 años de proporcionar a 1 escuela ahora hasta 90 escuelas y organizaciones sin fines de lucro, todas con servicios en nuestros 4,000sq. instalación para pies en Chula Vista y nueva ubicación en Mission Gorge que se estrenará en el otoño de 2021. Nuestro equipo de casi 50 cocineros, chefs, gerentes y conductores preparan el 100% diariamente para brindar el servicio y el programa de alimentos de la más alta calidad posible a los niños de todo San Diego.
Nuestros chefs llegan a la cocina a las cuatro de la mañana para que puedan crear desde cero alimentos saludables para los niños. Debido a que se elabora temprano en el día desde cero, con ingredientes frescos, no recalentados ni descongelados, nuestra comida siempre es sabrosa, entregada en su máxima frescura.
Hemos desarrollado una excelente relación con todos nuestros proveedores locales que van desde
-Panaderías locales
-Fabricantes de tortilla locales
-Pequeños agricultores orgánicos.
Nuestra filosofía es permanecer local mientras apoyamos a tantas pequeñas empresas locales como sea posible para crear una economía ética dentro del condado de San Diego. TopNotch cree en funcionar con una mentalidad sin fines de lucro. TopNotch dona diariamente comidas a refugiados en Tijuana. Nuestra esperanza es crear un impacto social que comience con nuestra principal pasión: alimentar a los niños.