Reminder: Computers 2 Kids Distribution Event
---
If you filled out the application to reserve a desktop and/or tablet, please come to the middle school campus this Thursday December 6, 2018 from 3:15pm-4:45pm to process your payment and pick up your devices. Payment processing will take place on the 2nd floor of the building and pick up will occur at back of the school by the basketball courts. As a reminder, the desktop computers cost $80 and the tablets cost $50. Laptops are not available at this time. Computers are refurbished. Computers and tablets are available to low-income families with no other criteria. If your student receives free or reduced lunch, they automatically qualify for the discounted devices. The online application will be closed today Tuesday December 4th at 5pm: https://goo.gl/forms/xhqSYBAm5kMxWjEL2.
Each desktop received is loaded with Microsoft and Education software and includes 1-year free technical support. Each tablet received includes a 1 year warranty. You will pay when you pick up your system. We accept: Cash, Money Order, Credit and Debit Cards. There is a $2.00 credit/debit processing fee on purchases up to $150 and a $5.00 credit/debit processing fee on transactions over $150.
Questions? Please contact the middle school counselor Mrs. Solorio by email (mosolorio@aeacs.org) or phone (619) 780-0400 ext. 3313 or Michelle Guarino (mguarino@aeacs.org) or phone (619) 795-1190, ext. 2125 at the elementary.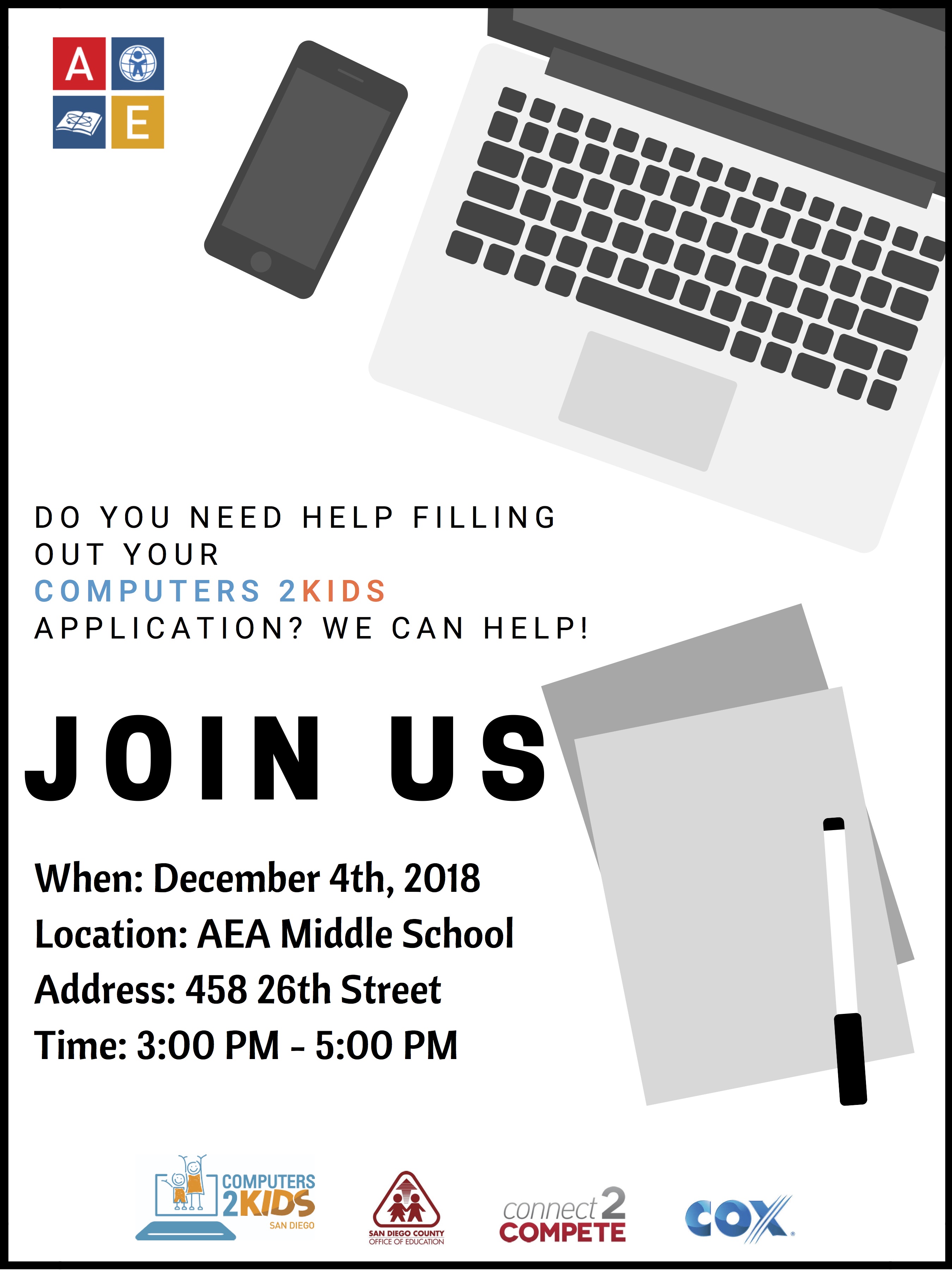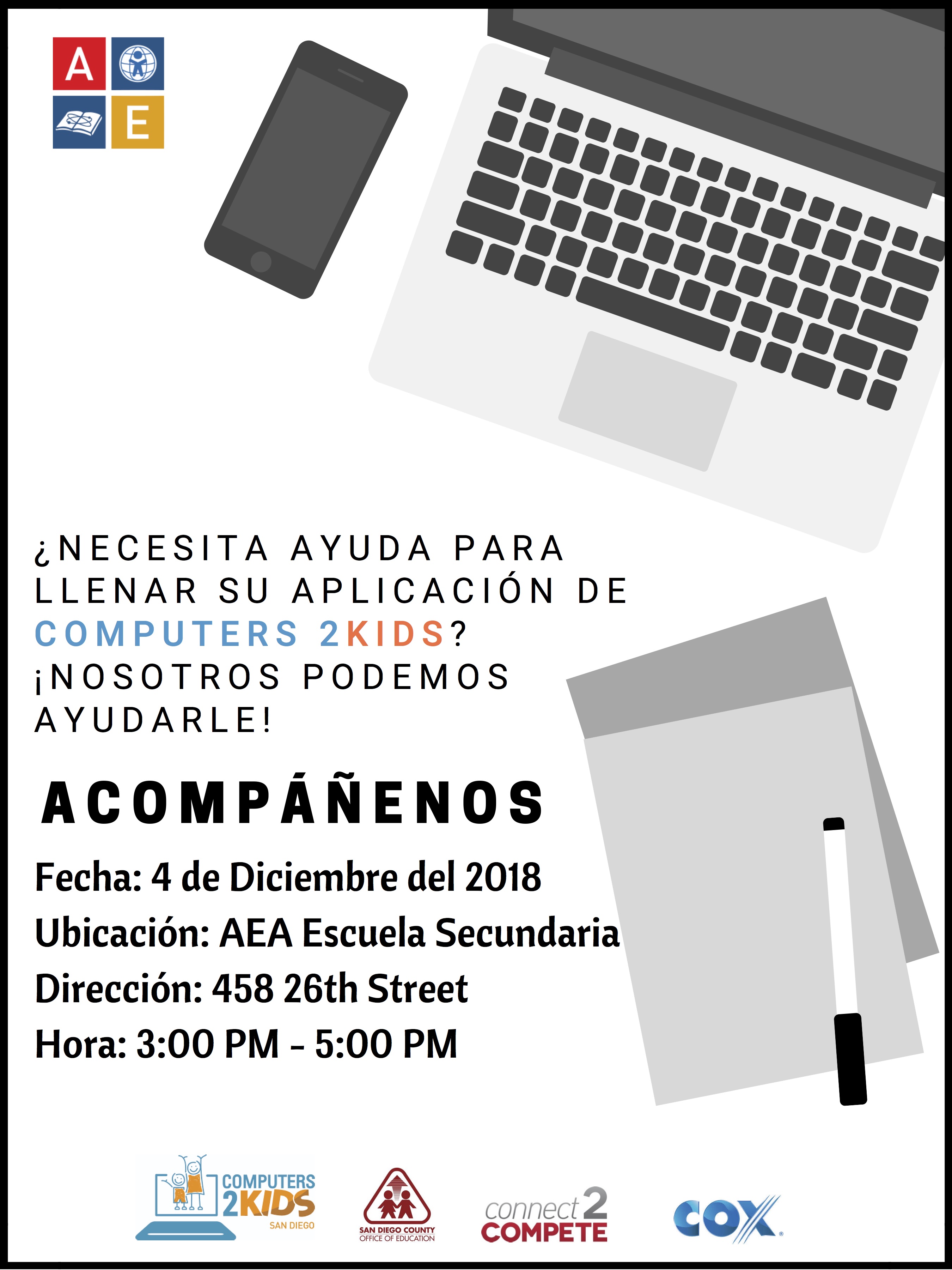 Si completó la solicitud para reservar una computadora de escritorio y/o una tableta, vaya al campus de la escuela secundaria este jueves 6 de diciembre de 2018 de 3:15pm a 4:45pm para procesar su pago y recoger su computadora/tableta. El procesamiento de pagos se realizará en el segundo piso del edificio y la recolección se realizará en la parte posterior de la escuela a un lado de las canchas. Como recordatorio, las computadoras de escritorio cuestan $80 y las tabletas cuestan $50. Las computadoras portátiles no están disponibles en este momento. Las computadoras son reformadas. Las computadoras y tabletas están disponibles para familias de bajos ingresos sin ningún otro criterio. Si su estudiante recibe almuerzo gratis o reducido, automáticamente califican para los dispositivos con descuento. La aplicación en línea se cerrará hoy 4 de diciembre a las 5 pm: https://goo.gl/forms/xhqSYBAm5kMxWjEL2.
Cada computadora de escritorio recibido se carga con el software Microsoft y Education e incluye apoyo técnico gratuito por 1 año. Cada tableta recibida incluye una garantía de 1 año. Usted pagará cuando retire su sistema. Aceptamos: efectivo, money orders, tarjetas de crédito y débito. Hay un cargo de procesamiento de crédito / débito de $2.00 en compras de hasta $150 y un cargo de procesamiento de crédito / débito de $2.00 en transacciones de más de $150.
¿Tiene Preguntas? Por favor, póngase en contacto con la consejera de la escuela secundaria, la Sra. Solorio, por correo electrónico (mosolorio@aeacs.org) o por teléfono (619) 780-0400 ext. 3313 o Michelle Guarino (mguarino@aeacs.org) en la escuela primaria.