Parent University: Screenagers – Tuesday, June 4th. 5:30-7:30pm
---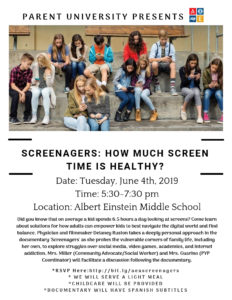 Did you know that on average a child spends 6.5 hours a day looking at screens? Join us to learn about solutions for how adults can empower kids to best navigate the digital world and find balance. Physician and filmmaker Delaney Ruston takes a deeply personal approach in the documentary 'Screenagers' as she probes the vulnerable corners of family life, including her own, to explore struggles over social media, video games, academics, and internet addiction. Mrs. Miller (Community Advocate/Social Worker) and Mrs. Guarino (PYP Coordinator) will facilitate a discussion following the documentary.
If interested in attending, please RSVP here: Parent University: Screenagers.
To access the trailer of this documentary, click the following link: Screenagers- Documentary Trailer.
*The documentary will include Spanish subtitles.
*We will have a light dinner, childcare, and Spanish translation available.
Taller para padres: Screenagers – martes, 4 de junio. 5:30-7:30pm
---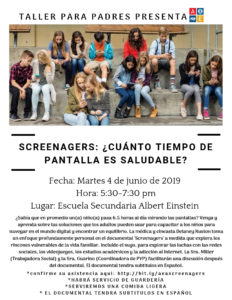 ¿Sabía que en promedio un niño pasa 6.5 horas al día enfrente de las pantallas? Venga y aprenda sobre las soluciones que tienen los adultos para capacitar a los niños para que naveguen en el mundo digital y encontrar el equilibrio. El médico y cineasta Delaney Ruston adopta un enfoque profundamente personal en el documental 'Screenagers' a medida que explora los rincones vulnerables de la vida familiar, incluyendo el suyo, para explorar las luchas en las redes sociales, los videojuegos, los estudios académicos y la adicción a Internet. La Sra. Miller (Promotora comunitaria / Trabajadora Social) y la Sra. Guarino (Coordinadora del PEP) facilitarán una discusión después del documental.
Si está interesado en asistir, por favor reserve aquí su lugar: Parent University: Screenagers
Para ver los cortos del documental, haga clic aquí: Screenagers- Documentary Trailer.
*Este documental tiene subtítulos en español.
*Tendremos bocadillos, cuidado de niños e interpretación al español.